PROVEN SAT TUTORING SYSTEM
BOOK YOUR SAT EVALUATION TEST NOW!
RECEIVE YOUR DETAILED REPORT
CALL US NOW @ 888 770 2533
The SAT (Scholastic Aptitude Test) is an entrance exam used by most colleges and universities as a means of measuring high school students' readiness. It is a multiple-choice, hand-written test delivered through the College Board.
The SAT compares all applicants through a common data set of numeracy and literacy. This standardized test can be used by the admission officers in correlation with your high school grades, extracurricular activities, recommendation letters, interviews and personal essays. The importance of SAT scores depends on individual school procedures. According to the College Board, a high SAT and/or ACT score opens you to more options for attending colleges and receiving scholarships.
WHAT IS IN SAT MATH SECTION OF SAT?
The Math Test measures comprehension and application of mathematical concepts. Students with a strong math score will be able to compete in a wide variety of college majors and careers, particularly because this test assesses prerequisite numeracy skills like problem-solving, strategic use of tools, algebraic equations, data analysis, and advanced mathematics.
In each content section, there are questions which challenge both conceptual thinking and analytical thinking. In general, students must:
› analyze, solve, and create linear equations and inequalities;
› conceptualize core data as it relates to statistics in science, social studies, and career-related contexts;
› exhibit an understanding of rates, ratios, and proportional relationships;
› "identify quantitative measures of center, the overall pattern, and any striking deviations from the overall pattern and spread in one or two different datasets, including recognizing the effects of outliers on the measures of center of a data set."
› recognize equivalent expressions, rewrite expressions, and understand where different forms are useful;
› solve single variable quadratic and higher-order equations and comprehend the graphs of quadratic and higher-order functions;
› interpret and build functions.
The math section of SAT has two portions, one with one of these calculators (38 questions, 55 minutes) and one without (20 questions, 25 minutes). Naturally, the calculator section enables students to perform complex equations faster, while focusing on higher-level reasoning. However, the calculator should not be used as a crutch , because some questions will appear where simple math can be done quicker in the mind. So the students that recognize this will save themselves time by not relying on their calculator when they do not need it. Some questions in the calculator section, therefore, can be answered much easier without using the calculator.
The SAT Math Test has thirteen non-multiple choice questions: eight in the calculator portion and five in the no-calculator portion. In these questions, students must grid in their answers rather than select a single choice.
On these grid response questions, multiple correct responses and solution processes are possible, making this a student-produced response. This means students have an opportunity to freely apply their planning, critical thinking, and problem-solving skills.
The "Heart of Algebra" in SAT Math section covers the most prominent subjects in Algebra including solving linear equations and linear inequalities, interpreting linear functions, the system of linear inequalities, solving system of linear equations, and their related word problems.
"Data Analysis" in SAT Math section covers ratios, rates and proportions, percents, units, table data, different kinds of plots, data inference, mean, mode and median and their related word problems.
"Passport To Advanced Mathematics" in SAT math section covers exponential equations, radical and rational equations, operations with polynomials and their graphs, non-linear equation graphs, function notations and isolating quantities and their respected word problems.
"Additional Topics In Math" for SAT math sections includes volume and right triangle word problems, congruent and similarity, and right triangle trigonometry, angles, arc length and trig functions, circle theorems, circle equations and complex numbers.
In Hack Your Course you not only learn all these questions and practice enough from our database, but you also learn about the techniques that can be used to answer some questions faster. Join us in the North and West Vancouver to have the unique experience with our system.
With our new reality of social distancing and self-isolation during the COVID-19 pandemic, online tutoring has become a necessity for many families. Hack Your Course has it's own platform and it provides the hardware to its tutors. Hack Your Course is one of the first tutoring companies doing online tutoring in Greater Vancouver. We have the experience, expertise and the material!
WHAT IS IN ENGLISH SECTION OF SAT?
READING
The main purpose for the Reading in SAT test is to determine college and career level literacy. Namely, the students' comprehension of a variety of appropriately challenging literary and informational texts involving a broad range of topics like literature, history, science and social studies.
The test is comprised of a series of passages and multiple-choice questions associated with each. Some question sets refer to paired passages. Students must refer to the language specific to the passages and carefully draw inferences based on analysis and reasoning.
WRITING AND LANGUAGE
The Writing and Language Test of SAT measures academic revising and editing for multiple texts. Students must exhibit mastery of standard written English grammar, usage, and punctuation.
› Multiple-choice questions only.
›  tables, charts, graphs, etc. may accompany some passages and/or questions. › Although mathematical computation is NOT required, some information will be shown graphically, requiring careful editing and revision regarding said information. This measures literacy in different media. › Requires proficiency in important English language conventions and written expression. Students will be asked to correct rhetorical and mechanical errors in the passages. › The passages are unique to this exam and not from outside sources.
Generally, students will be asked to select from three answers in order to replace an error in the passage. Another common question requires students to choose the best version of a sentence or passage.
SAT ESSAY
The SAT essay is optional and NOT graded. However, the highly selective school might ask for it. By taking the essay portion, students choose to exhibit their effective writing and analysis skills. The object of the essay is to use evidence from a text to create a meaningful statement that demonstrates deeper thinking about a piece of literature or an essay.
Two evaluators will use a 1-4 rubric for each of the following: reading, writing and analysis. The two scores will be added together to provide a final, 2-8 score for each of the three sections. ›  Students must write using substantial evidence and always with the purpose of demonstrating critical analysis of the text. ›  Clear, concise and comprehensive writing must be used in order for evaluators to make objective grades. No subjective opinions from students will be considered. ›  A single writing prompt will be used for all test takers, however, the passages are subject to change.
How long does sat exam take?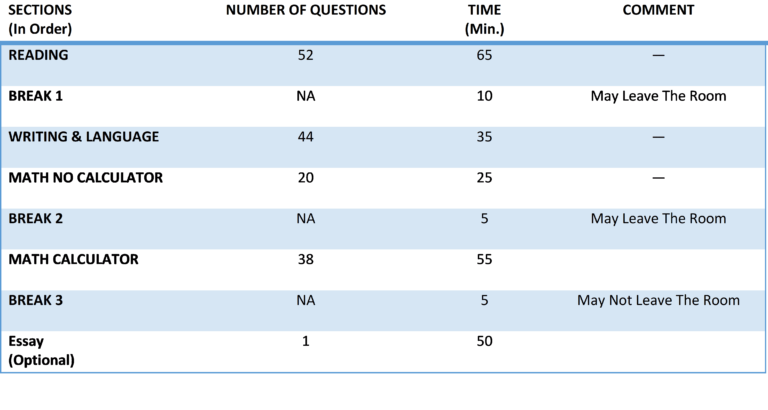 how are SAT Scores presented?
Total score for SAT is scored between 400-1600.
Evidence based reading and writing of SAT is scored between 200-800
Math section of SAT is scored between 200-800
Essay is scored between 2-8.
First students' raw scores are calculated then it is adjusted for slight differences in difficulty between different versions of SAT and different times, then it is scaled to 200-800 and gets reported (image below is the report card of one of our current students).
The score report gives a detailed report that includes score, range, benchmark, percentile and more.
For a detailed analysis of the score, you can go to the link in the Collegeboard Website as the governing body of the test.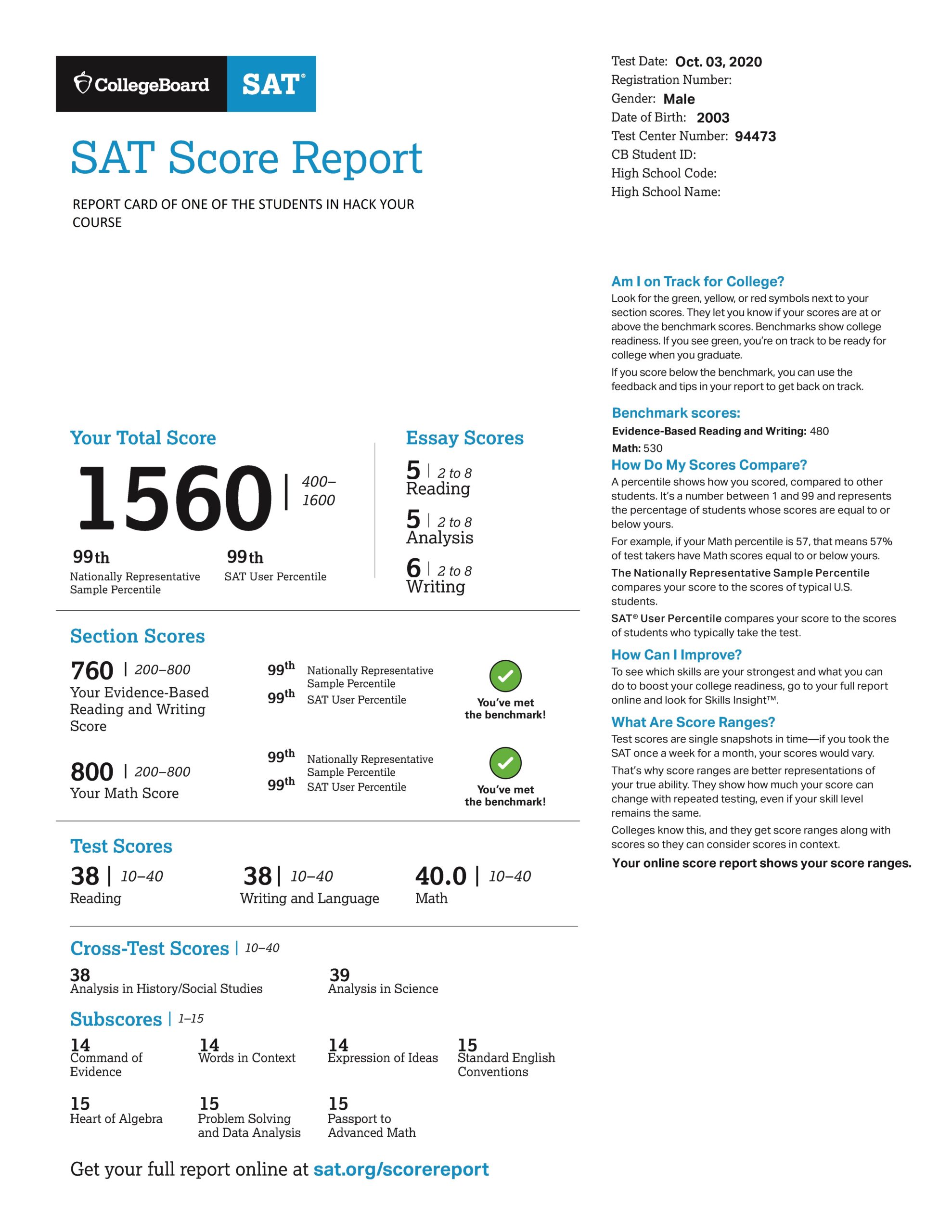 how to prepare for the test?
Most people do not practice seriously for the SAT unless they register for the test. After registering you can get your act together and start planning. first you need to learn about the overall structure of the test , so you know how to manipulate it. You can check the previous sections of this part to learn about the structure.
You must find out what sections you need to put most of your energy into, especially if you do not have much time. You can take complete practice tests from the SAT website or Khan Academy. After scoring them, you can sit down and see what is your weakness.
Hack Your Course provides careful pre-assessment for you and finds out exactly what you need to make the most of your time. Then you can get your consultation session and choose one of our plans to start your path to a high ranking university.
Make a plan according to your strengths and weakness and follow through with it. Many people suffer because they do not follow their study plans wisely. Try to spend some time every day and make it fun by making flashcards, working with a friend, creating weekly challenges and rewards for yourself, and so on.
Other than essay writing and student-produced responses, SAT is mainly a multiple choice exam. In the SAT you do not receive negative points for wrong answers so smart guessing is quite alright. Also, you need to manage your time accordingly. E.g. do not waste your time on the questions that will take a long time to answer, instead first hit the ones that are easy for you. You do not want to lose points by missing the questions that you know the answer for.
Some questions in the math section might not need to be solved completely and you can find the answer by just plugging in . However, it might take some time so you should save it for the end.
There are a lot of tips and strategies that our SAT tutors in Hack Your Course Education implement and you can use our expertise by joining us for either in-home or online tutoring.
Practice, Practice, Practice. If you are serious about a standardized test, then you should cover as many questions as you can. If you prepare (even without a tutor) for two months and you do not see an increase of at least 100 points then something is wrong.
Through learning the right strategies, preparing well ahead, and practicing enough, you can easily increase your scores.
If you live in Greater Vancouver and Toronto then our SAT experts can help you achieve the score that you deserve. We provide online and in-home SAT tutoring service with a quality guarantee in place.
We Have The Material!
We Have The Expertise!
Hack Your Course enforces rigorous standards for SAT preparation and that is why it has very limited space for standardized tests.